Rare Access: Winning Strains in High Throughput Screening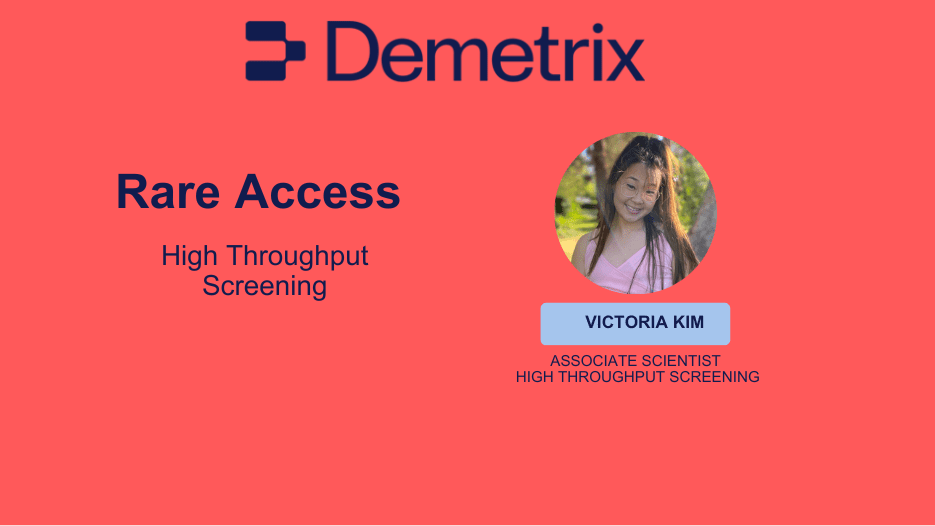 Our Rare Access interview this month features Victoria Kim. Victoria is an Associate Scientist on the High Throughput Screening team. She discusses her transition into biotech, picking winning strains, and much more.
Click below to view the interview:
Would you mind letting everybody know your background and current role at Demetrix?
I went to school at UC Berkeley and studied molecular cell biology. During my senior year while the covid pandemic was raging, I started looking for full time opportunities and got my first role at a biotech company in Burlingame. That's when I first got exposed to large automated liquid handler machinery. That ultimately got me this role as an Associate Scientist in the High Throughput Screening Department.
Would you mind giving us an explanation of your team, and the goals and objectives you all are working on?
It's a joint effort in our R&D group to find the best strains that can produce the highest yield. HTS is the intermediate group that helps screen yeast strains to find the best one, using our large automated systems. Some of our main goals and objectives are to assure the other groups that our process is efficient and consistent.
Within your group, what are some of the projects that you're currently working on?
Aside from my regular day to day projects such as script validation, and cross functional projects, I also took a part in the mutagenesis pipeline project. This introduces random mutations into a particular strain that could ultimately be promoted to tanks and is another way to introduce new strains. Another project I've taken a lead on is the automated colony picking pipeline. In this project we're able to support large library-like experiments, which calls for many plates being inoculated at the same time. It minimizes human error and streamlines the process.
In your experience, what are your favorite parts about working at Demetrix?
In my role I've been given the opportunity to take on many projects that are super interesting. It's very fulfilling to see some of the things that I've implemented be integrated into our workflow and processes. I feel really valued here and I like the close knit community that we have. People genuinely care for each other and celebrate each other's achievements and successes.