Rare Access: High Throughput Process Engineering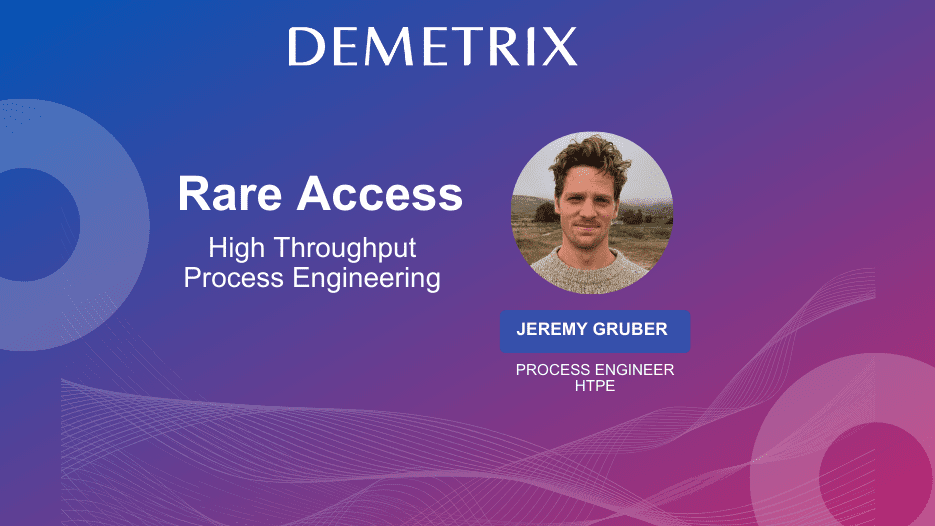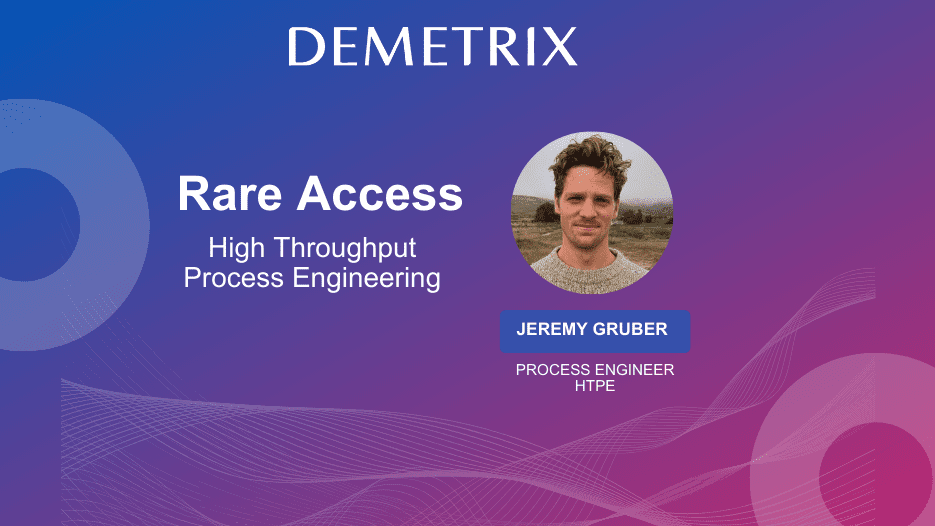 Our Rare Access Interview this month features Jeremy Gruber. Jeremy is a Process Engineer on the High Throughput Process Engineering team at Demetrix. We discuss his unique background in winemaking, selecting and scaling strains, and much more.
Click below to view the interview
Hi Jeremy, would you mind letting everyone know your background and current role at Demetrix?
My background is chemical engineering, with a degree from Penn State. Upon graduation, I took a different career path and was excited to get into winemaking which was something I wasn't involved with growing up. I didn't grow up in a winemaking region. I really enjoyed the balance of the creative and technical work that was associated with it. It was an incredible opportunity to work hands on to create a tangible product that people could enjoy. I did my first harvest in New Zealand at a winery called Villa Maria in Hawke's Bay, which is on the North Island. I immediately fell in love with the process, culture and product. From there I moved up to Sonoma where I did my second harvest at the Donum Estate in Sonoma. I landed a full-time position instead of a harvest intern role, and I continued growing from there. I was in winemaking for about three years. About 6 months ago I pivoted back to more of a traditional role as a Chemical Engineer with Demetrix. Here at Demetrix I'm a Process Engineer with the High Throughout Process Engineering team. Our group also includes Jeff, Carrie and Jonathan and we work with our Ambr system in which we're fermenting 250mL bioreactor tanks with yeast strains.
What are some of the goals and objectives for your team in High Throughout Process Engineering?
In terms of overall structure at Demetrix, we have Strain Engineers who are making strains and genetic edits. They are able to make strains on a magnitude of thousands per year and they're able to test and analyze strains. The ones that perform well or are good hits come to my team. We're able to test strains on the magnitude of hundreds per year. We're using 250mL bioreactors in our case. The goal of my team is to accurately rank the performance of strains and be representative of strains that would perform on a larger scale. Strains that are great hits and perform well will be promoted to our Upstream Processing team which goes from our scale of 250mL all the way up to Commercial Scale.
What are some of the projects you're currently working on?
The main focus always is strain screening. This is the process where we take good hits from the strain engineering team, run these, and take them up to the USP team where they use them on a larger scale. In addition to this we're also constantly improving our process because as the strains improve they're able to handle more aggressive processes. If we weren't updating our process, strains would clump together and perform at a glass ceiling. One of my favorite aspects of the role is being able to do process development and see how we could continue pushing strains. It gets back to the whole creativity and outside of the box thinking that's necessary to push the process forward.
I'd love hear what you enjoy most about working at Demetrix?
What stood out to me most about Demetrix during the interview process was the process itself. The idea that we would be able to make cannabinoids on a far more sustainable level than endless fields of farming, water, and fossil fuels. The fact that we're able to produce rare bioactives in much more sustainable way was intriguing to me. These molecules are beneficial to humans, and being able to produce them with less environmental footprint is necessary as they become more and more popular. It's such an interesting process when you're able to create a molecule through yeast, our science is super intersting. Outside of the mission, the culture here is something that has stood out to me. In an R&D role, it's a highly collaborative atmosphere where people of so many different backgrounds come together. If one person has a problem, it's common that we will all come together in a meeting and each group will share data and information from their own processes. I've been able to learn so much based on this collaborative nature.