Rare Access: Commercial Outlook with Cynthia Bryant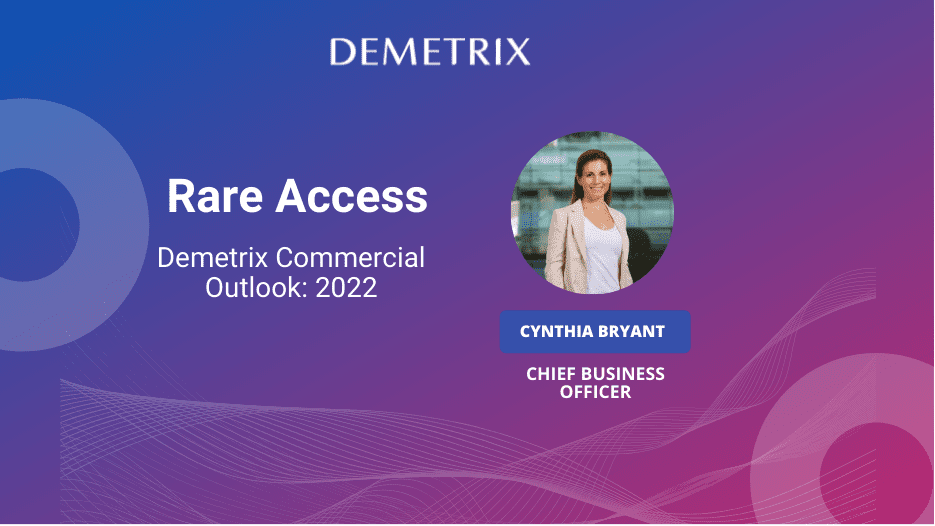 Learning More About the Demetrix Commercial Team
Our Rare Access interview this month features Cynthia Bryant, Chief Business Officer at Demetrix. She explains the components of the Demetrix Commercial team, our process of commercialization, and our upcoming product launch.
Click below to view the interview
Hi Cynthia, would you mind letting everyone know what the Commercial Team does at Demetrix?
A lot of people equate Demetrix with the R&D work that we do in Berkeley, CA and that's where we are developing technology to produce rare ingredients such as cannabinoids to help improve peoples lives in health & wellness. What Commercial does is take that technology and the ability to produce these ingredients and we marry them with industries and partners that can put them into products that consumers can benefit from.
So what are the different components of the commercial team and how do they work together to deliver an end product to Demetrix customers?
I think the key component is that a lot of people think commercial activities as of more sales and marketing activities. There's this whole other area of Manufacturing to produce the product and Quality Assurance to ensure that product specs are correct and production and handling occurs within the specification that's required for safe handling. You also have Supply Chain & Logistics as well as Regulatory to ensure legal and safety compliance.
Now as we're in the new year in 2022, what's the focus for the Commercial team this year?
This is a really exciting year for the Commercial Team. We're launching our first product which is cannabigerol(CBG), and we're doing a lot of preparations to get the product at commercial scale along with the necessary launch preparations to announce once we're ready.
Would you mind letting us know what commercialization means for Demetrix?
At Demetrix there are two things that we use to determine commercialization. The first is the scale at which we're producing. At Demetrix we define that as being 100,000 liters or larger which are very big tanks. It also is the capability to demonstrate that we can produce the product consistently from batch to batch so that it's on spec every time.
What is the first industry Demetrix is targeting for cannabigerol?
The first industry is topical applications which are personal care, skincare, and beauty. We see a lot of interesting benefits in the potential that CBG can bring to these various products in this industry.
What is the most exciting part of this announcement for you and what Demetrix is doing in the new year?
I think for me personally this is a year where everything is culminating in terms of all the hard work that the entire Demetrix team has done over the last couple of years. From starting off with an empty lab and having to install freezers and equipment to actually developing technology that's commercially viable and all the preparation to ensure that we deliver a safe, legal, and efficacious product.